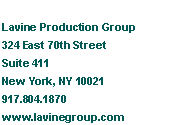 KAYE LAVINE - FOUNDER (1947-2006)
Kaye was active in many aspects of public television, reflecting the idealism and the practicality of that world.

Her career began at the University of Minnesota with a one-credit production course, which led to a part-time job at the local public t.v. studio, which led to a full-time job, which opened the doors to an opportunity with Milwaukee Public Television.

In Milwaukee she assisted in the production of instructional programs. When a director discovered that Kaye could read music and asked her to work on a symphony broadcast, a passion for putting the arts on television was born.

A two-year stint in Tampa gave Kaye producing and directing credentials, and soon she was on the road again - this time to Denver, still in public television. There she spearheaded the production of programs about arts and artists in the Rocky Mountains, including an award-winning series with the Denver Symphony Orchestra.

Eight years later, she succumbed to the lure of the Big Apple when she went to work at Great Performances. In 1989 she started Lavine Production Group to satisfy her goal of producing programs that can make a difference in the world.

MIRIAM LEWIN - EXECUTIVE PRODUCER, PRESIDENT
Miriam has worked behind the scenes throughout her career, as a producer in the fields of theatre, music, opera, and television. She comes from a family of musicians and copy-editors, so it's not surprising that she is an active choral singer, and an unrelenting re-writer.

At Yale, Miriam studied French literature, which wasn't very practical, and theatre administration, which was - it led to a job as fundraiser, and later production manager, at the Opera Company of Philadelphia.

After working on several televised productions, including a performance of the Verdi Requiem with Luciano Pavarotti in a sports arena, she decided to trade the stage for the small screen.

She started working in the documentary world, where she found that producing films satisfied her artistic side as well as her persnickety side. After stints with Equinox Films, Terra Associates, and ABC News, she joined Lavine Production Group in 1999. She was privileged to be Kaye Lavine¹s production partner for seven years.

ELIZABETH ELSON - PRODUCER
While still in graduate school, Elizabeth joined Lavine Production Group for "The Synergy Project." She then went off to supervise the production of several films, for WNET's "City Arts," A&E, and The Discovery Channel, among others. She has worked with LPG on "Connecting With the Arts," "The Art of Teaching the Arts," and "Teaching The Children of Willesden Lane."

Elizabeth's independent work as a filmmaker reflects her passion for themes of social justice and her interest in what motivates seemingly ordinary people to express themselves in extraordinary ways.

LISA HARTMAN - PRODUCER
Lisa met Kaye Lavine in 1979 at Denver's public television station, where Lisa was a camera operator and Kaye was a director. A long friendship and working relationship ensued. For LPG, Lisa directed shoots in Denver and Minneapolis for "The Art of Teaching the Arts".

Lisa still lives in Denver, where she owns Photopia Productions LLC. She has produced an extensive series of professional development programs for Stenhouse Publishers, documenting the classroom work of teachers who specialize in reading comprehension. Other clients include ABC News, Coors Brewing Company, the National Multiple Sclerosis Society, and VH-1.

CLAUDIA MOGEL - PRODUCER
When not playing fiddle in the psych country rock band Oakley Hall, Claudia produces films that explore American culture. She and her partners at Free Range Productions recently completed a 90-minute documentary special for PBS called ³Soundmix: Five Young Musicians,² about teenage musicians playing roots music. For LPG, Claudia has worked on all three arts education series, and on ³Teaching The Children of Willesden Lane.²

GARY BRADLEY - SUPERVISING EDITOR
Gary has an undergraduate degree in the classics and a graduate degree in library science, and even today his penchant for words (especially obscure ones) serves to enliven even the most serious edit sessions.

Gary's editing career has taken many forms. He was a staff editor at any number of now-defunct post production facilities. Then, in an effort to help shape programs all the way from conception to completion, Gary became an early adaptor of non-linear editing. This flexibility and state-of-the-art knowledge brought high-end programming to his door.

In addition to his collaboration on all of Lavine Production Group's work, Gary edits for Great Performances, The Metropolitan Opera Presents, Sony Classical, and PBS.

LAURA YOUNG - EDITOR
Laura Young graduated from New York University with a Bachelor of Fine Arts. She has been editing since 1990, focusing on arts programs for public television. She received an Emmy nomination for the acclaimed children's series "Reading Rainbow." The arts have been an integral part of her life since childhood, and continue to enrich and inspire her.

DAVID HOGOBOOM - DIRECTOR OF PHOTOGRAPHY
David loves to sing but can't carry a tune. Being tone-deaf hindered any potential career as a sound recordist but helped him focus his early visual acuity.

After filming Haile Selassie and Julia Roberts, as well as flaming oil fields in Kuwait and earthquakes in India, David is well-equipped to film in crowded classrooms full of active children - or anywhere else a production requires.