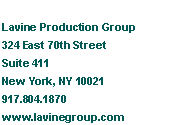 Lavine Production Group is a film and television production company. We transform ideas into informative, entertaining, and relevant programs.

Arts and education are our specialties. Our work ranges from specials for PBS to documentaries for Reader's Digest to teacher professional development workshops for Annenberg Media. We've brought to life subjects that include George Washington's home at Mount Vernon, the recording of Beethoven's string quartets, and life in first-century Israel. We've tackled comprehensive school reform, and PDQ Bach's first opera.

We think big and we take on big projects. But we remain a small group, so that we can give a lot of personalized attention to everyone we work with.